Why Choose Teeth Whitening?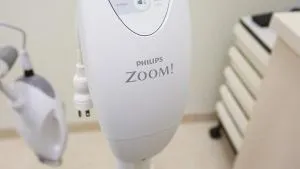 Here at Jax Beach Cosmetic & Family Dentistry in Jacksonville Beach, FL, we are proud to offer whitening services to our patients.
The most common complaint people have about their teeth is about their color. Many things can affect the color of your teeth, including plaque and dirt. However, there are more. The food and drinks you consume can affect the color of your teeth. People who use tobacco often have stained teeth. Sometimes medications and injuries can change the color of your teeth.
Most teeth whitening products use bleach. This breaks the stains up into smaller pieces, making them harder to see so your teeth look brighter. However, bleaches do not work on all teeth so it is important to talk to us before you bleach your teeth. Bleach doesn't work on caps, veneers, crowns, or fillings that were originally made to match your teeth's natural color.

We offer 2 teeth whitening options:
Zoom Whitening - Zoom professional whitening is a fast, effective and safe way to whiten your teeth. Results from treatments can be immediate, and because a dental professional is involved, the process is safe, reliable and hassle free.
Take Home Whitening - We make take home whitening stints in our office, then provide our patients with whitening tubes to take home and do in the comfort of their own home.
Want more information on teeth whitening and zoom whitening from Rick K. Harrison, DMD, PA? Call our Jacksonville Beach, FL office at (904) 241-4237 to learn more.