Posts for tag: smile makeover
By Rick K. Harrison, DMD, PA
April 22, 2020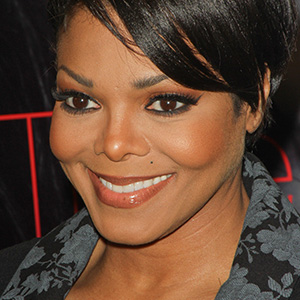 Multi-platinum recording artist Janet Jackson has long been known for her dazzling smile. And yet, Jackson admitted to InStyle Magazine that her trademark smile was once a major source of insecurity. The entertainer said, "To me, I looked like the Joker!" It was only after age 30 that the pop icon came to accept her unique look.
Jackson is not alone. A study commissioned by the American Association of Orthodontists found that more than one third of U.S. adults are dissatisfied with their smile. But there's good news—modern dentistry can correct many flaws that can keep you from loving your smile, whether you're unhappy with the color, size, or shape of your teeth. Here are some popular treatments:
Professional teeth whitening: Sometimes a professional teeth whitening will give you the boost you need. In-office whitening can dramatically brighten your smile in just one visit.
Tooth-colored fillings: If you have silver-colored fillings on teeth that show when you smile, consider replacing them with unnoticeable tooth-colored fillings.
Dental bonding: If you have chipped, cracked, or misshapen teeth, cosmetic bonding may be the fix you're looking for. In this procedure, tooth colored material is applied to the tooth's surface, sculpted into the desired shape, hardened with a special light, and polished for a smooth finish.
Porcelain veneers: Dental veneers provide a natural-looking, long-lasting solution to many dental problems. These very thin shells fit over your teeth, essentially replacing your tooth enamel to give you the smile you desire.
Replacement teeth: Is a missing tooth affecting your self-confidence? There are several options for replacing missing teeth, from a removable partial denture to a traditional fixed bridge to a state-of-the-art implant-supported replacement tooth. Removable partial dentures are an inexpensive way to replace one or more missing teeth, but they are less stable than non-removable options. Dental bridges, as the name implies, span the gap where a tooth is missing by attaching an artificial tooth to the teeth on either side of the space. In this procedure, the teeth on both sides of the gap must be filed down in order to support the bridgework. Dental implants, considered the gold standard in tooth replacement technology, anchor long-lasting, lifelike replacements that function like natural teeth.
After coming to embrace her smile, Jackson asserted, "Beautiful comes in all shapes, sizes, and colors." If you don't feel that your smile expresses the beauty you have inside, call our office to schedule a consultation. It's possible to love your smile. We can help.
For more information, read Dear Doctor magazine article "How Your Dentist Can Help You Look Younger."
By Rick K. Harrison, DMD, PA
December 14, 2019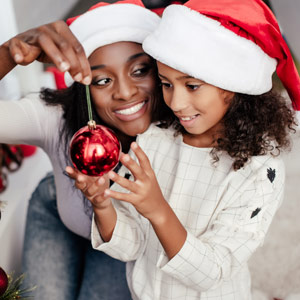 The holidays have officially begun! Between Thanksgiving and New Year's Eve, it's fairly certain you're going to be spending time with lots of folks. From family gatherings to neighborhood open houses to the office holiday party, you'll find yourself rubbing elbows with all the in-laws and out-laws in your social orbit. And because it's the season of cheer, you'll probably smile—a lot.
So, before the festivities go full tilt, take a little time to freshen up that wonderful smile of yours. Here are a few suggestions for having a smile this holiday season that you're confident to put on display.
Dental cleanings. While professional dental cleanings primarily remove any lingering disease-causing plaque and tartar, they can have the secondary benefit of improving your smile's appearance. So, if it's close to time for your regular dental visit or you would simply like to give your teeth a quick polish, schedule a cleaning appointment for a little extra holiday sparkle.
Teeth whitening. You can gain a noticeable increase in smile brightness with a professional whitening application. With our advanced bleaching solutions and techniques, we can precisely control the level of brightness you desire, from a more subdued natural white to a dazzling "Hollywood" shine. And with care, the effect could last for several months or even years with an occasional touch-up.
Bonding. A chipped tooth can stand out from your smile like a smudge on a masterpiece painting. In many cases, though, we can repair minor chips and other defects by bonding composite resin to the tooth in a single visit. The process is simple: We color-match the resin to the tooth, then apply, shape and cure it. Your tooth will look good as new.
Porcelain veneers. For a more durable and comprehensive solution, consider veneers for dental flaws you do not wish to live with. These thin wafers of porcelain are permanently bonded to the front of teeth to mask chips, heavy staining or slight misalignments. And they are quite affordable compared to more extensive cosmetic restorations.
All of these cosmetic options can fit into most people's budgets and don't take a lot of time in the dentist's chair. Veneers are the one slight exception: These require more than one visit to the dental office because they are custom-made for you in a dental lab. Also note that veneers often require the permanent removal of tooth enamel, so the tooth will require a veneer or other restorative covering from then on.
All in all, though, it doesn't take much to put some much-needed zing back into your smile. In most cases, it only takes one visit—just in time to brighten up your holiday season.
If you would like more information about smile enhancement, please contact us or schedule a consultation. To learn more, read the Dear Doctor magazine article "Porcelain Veneers."
By Rick K. Harrison, DMD, PA
December 05, 2017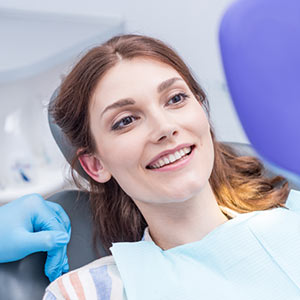 The holidays are a season for giving. At this time of year, lots of us spend hours rushing around, looking for the perfect gifts for people we care about. But sometimes, amidst all the hustle and bustle, it doesn't hurt to step back and think about yourself a little. If a better-looking smile has been on your list but you haven't taken the first steps, the holiday season might be the right time to give yourself a gift.
Many smile problems, like discolored, chipped or uneven teeth, can be resolved with veneers—wafer-thin porcelain shells that cover the front surfaces of teeth. Veneers are custom-made just for you: They can have a pearly luster to match your existing teeth, or be Hollywood-white for a dazzling red-carpet smile. In just a few visits to the dental office, you can have the smile you've always wanted—and a whole new look for the New Year.
If damaged or missing teeth are what's bothering you, you'll be happy to know that there are lots of good options for replacing them. If the tooth's roots are still in good shape, a crown or cap could be the answer. This is a sturdy replacement for the entire visible part of the tooth that not only looks great, but also functions well in your bite—and can last for years to come.
If teeth are missing or can't be saved, we offer several options for replacement, including fixed (non-removable) bridgework and dental implants. A tried-and-true method for replacing one or more missing teeth, bridges are firmly supported by healthy teeth next to the gap in your smile. These teeth must be prepared to receive the bridge by having some of the tooth's surface removed.
Dental implants are today's premier option for tooth replacement. In this high-tech system, a root-like titanium insert, placed directly into the bone beneath the gum, forms a solid anchorage for the visible part of the replacement tooth. Implants look and feel completely natural, and can last for many years. Plus, they don't require any work to be done on nearby teeth.
What kind of smile makeover is right for you? Just ask us! We will be happy to take a look at your smile and recommend a treatment plan. And in this season of generosity, there's no better gift you can give yourself than a bright new smile.
You can learn more about smile makeovers by reading the Dear Doctor magazine article "Beautiful Smiles by Design."